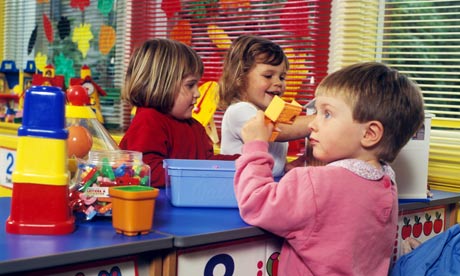 National Education Grant Funding
 National Education Grant Funding is 15 hours per week (free of charge) of early years education.  This is for a maximum of 38 weeks or 3 terms per annum (12 weeks in the period 1 January to 31 March, 13 weeks in the period 1 April to 31 August and 13 weeks in the period 1 September to 31 December).
The funding may be used at any one of the following:
Private Day Nurseries
Nurseries on school sites
Children's centres
Pre School's
Some Playgroups
Childminders
To search for a setting go to www.look4nurseries.co.uk.
Who is eligible?
 All children aged between 3 and 4 years are eligible for 15 hours of free funding, regardless of your financial circumstances. Some 2 year olds from low income families are entitled to a free part-time early education place under a new national scheme. The government is funding the places for two-year-olds from low-income families who receive benefits.
In order to be eligible, families must also be in receipt of one of the following benefits:
Income Support
Income-based Jobseekers Allowance
Income-related Employment and Support Allowance
Support under Part VI of the Immigration and Asylum Act 1999
The Guarantee element of State Pension Credit
Child Tax Credit, and have an annual income (as assessed by HM Revenue and Customs) that does not exceed £16,190
Working Tax Credit 'run-on' the payment someone may receive for a further four weeks after they stop qualifying for Working Tax Credit
When can my Child start free Nursery Education?
Three year olds will be able to start a free nursery place in the September, January or April following their third birthday.
Children born before:
31 March will be eligible for free nursery education from the Summer Term (April)
31 August will be eligible for free nursery education from the Autumn Term (September)
31 December will be eligible for free nursery education from the Spring term (January)
These are the cut off dates. If your child's birthday is for example on the 1st or 2nd January and the term starts on the 5th January I am afraid their funding will not start until the Summer Term after Easter because they have passed the cut off date of 31st December.
How can I use my funded hours?
You are guaranteed to have the funding in the following ways –
3 hours a day over 5 days of the week
5 hours a day over 3 days of the week
Local Authorities are encouraging providers to be more flexible.
Do all my funded hours have to be with the same provider?
No they do not have to be used with the same provider. You cannot have more than 15 funded hours per week and you do not have to use all 15 hours if you do not want to.
Does my child have to take up an early education place?
It is up to you to decide what kind of early education, if any, is right for your child. By law, children are not required to attend any educational setting until the term after their fifth birthday. The grant is only available until your child starts school.
If you need help finding a nursery go to www.look4nurseries.co.uk  where you can find over 13,500 settings throughout the whole of the UK.