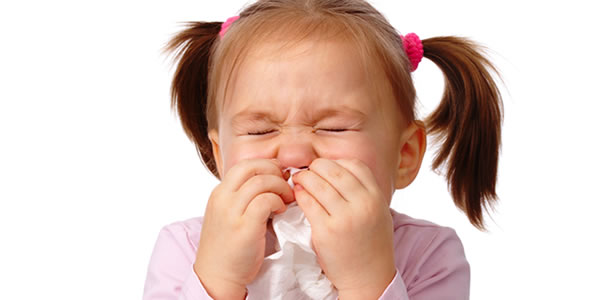 Coughs and Colds in Young Children
We look at what causes coughs and colds, their symptoms and how best to treat them!
Coughs and colds are usually caused by infection with a germ called a virus.  Many different viruses can infect the nose and throat. They are passed on by coughing and sneezing the virus into the air. An average preschool and primary school child has 3-8 coughs or colds per year. Sometimes several coughs or colds occur one after the other.
Symptoms of a common cold
The first symptom of a cold is usually a sore or irritated throat.
This is then followed by other symptoms, including:
a blocked nose (nasal congestion) – caused by a build up of phlegm or mucus (catarrh)
nasal pain and irritation
sneezing
a runny nose (nasal discharge) – the discharge is usually clear and runny at first before becoming thicker and darker over the course of the infection
coughing – this symptom occurs in one out of every three cases
a hoarse voice
a general sense of feeling unwell
Coping with a cold – Top tips for parents
The following tips may help your child cope with the symptoms of a cold.
encourage your child to rest and make sure they drink plenty of fluids – water is fine but warm drinks can be soothing
if they have a blocked nose you can make their breathing easier by raising the pillow end of your child's bed or cot by putting books or bricks under the legs or placing a pillow under the mattress (although you should not put anything under the mattress of a baby younger than one year old)
paracetamol liquid or ibuprofen liquid can help ease a fever and pain – check the dosage instructions on the packaging and never give aspirin to children under 16 years old
a warm, moist atmosphere can ease breathing if your child has a blocked nose – take your child into the bathroom and run a hot bath or shower or use a vaporiser to humidify the air
keep the room aired and at a comfortable temperature, and don't let your child get too hot – if a small child or baby has a temperature let them wear just a nappy or underwear
Is my child's cold serious?
Colds aren't usually serious. However, babies, the elderly and anyone whose immune system is compromised can be at risk of developing more serious complications, such as a bacterial chest infection.
When should I take my child to the doctor?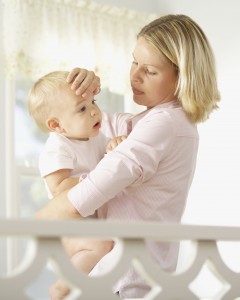 Most coughs and colds get better without complications. Sometimes a more serious infection develops from an initial viral infection. For example, an ear infection, chest infection (pneumonia), etc. Symptoms to look out for that may mean more than just a cold include:
Breathing problems – wheeziness, fast breathing, noisy breathing or difficulty with breathing.
Being unable to swallow (this may show up as excessive drooling).
Drowsiness.
Unusual irritability or persistent crying, in a baby, or if the baby is not taking feeds.
A rash.
Chest pains.
Persistent high temperatures, particularly if a baby aged less than 3 months has a raised temperature (fever) higher than 38°C.
Very bad (severe) headache, sore throat, earache or swollen glands.
A cough that persists for longer than 3-4 weeks.
Symptoms getting worse rather than better after about five days of a cold.
Symptoms (other than a mild cough) lasting more than about ten days. This is  particularly important if your child has mucus or phlegm (sputum) which is green, yellow or brown, as it may indicate infection with other germs called bacteria.
Any symptom that you cannot explain.
Who to contact if in doubt?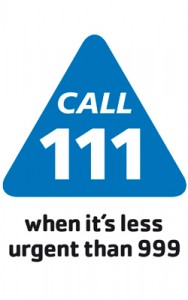 NHS 111 is a new service that's being introduced to make it easier for you to access local NHS healthcare services in England. You can call 111 when you need medical help fast but it's not a 999 emergency. NHS 111 is a fast and easy way to get the right help, whatever the time.
NHS 111 is available 24 hours a day, 365 days a year. Calls are free from landlines and mobile phones.
When to use it
You should use the NHS 111 service if you urgently need medical help or advice but it's not a life-threatening situation.
Call 111 if:
you need medical help fast but it's not a 999 emergency
you think you need to go to A&E or need another NHS urgent care service
you don't know who to call or you don't have a GP to call
you need health information or reassurance about what to do next
For less urgent health needs, contact your GP or local pharmacist in the usual way.
If a health professional has given you a specific phone number to call when you are concerned about your condition, continue to use that number.
For immediate, life-threatening emergencies, continue to call 999.
How does it work?
The NHS 111 service is staffed by a team of fully trained advisers, supported by experienced nurses and paramedics. They will ask you questions to assess your symptoms, then give you the healthcare advice you need or direct you straightaway to the local service that can help you best. That could be A&E, an out-of-hours doctor, an urgent care centre or a walk-in centre, a community nurse, an emergency dentist or a late-opening chemist.
Where possible, the NHS 111 team will book you an appointment or transfer you directly to the people you need to speak to.
If NHS 111 advisers think you need an ambulance, they will immediately arrange for one to be sent to you.
Calls to 111 are recorded. All calls and the records created are maintained securely, and will only be shared with others directly involved with your care.