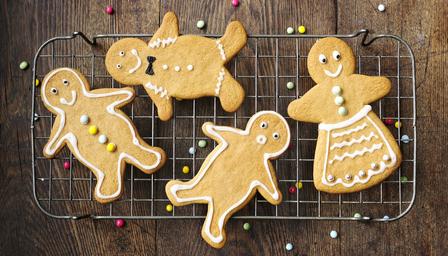 Gingerbread Men
The smell of gingerbread around your house will be just wonderful when you make our recipe.   Follow our easy step guide for a tasty treat anytime!.
Utensils you will need:
 Baking Tray
Mixing Bowl
Wooden Spoon
Rolling Pin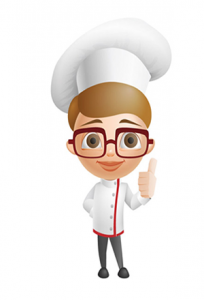 Ingredients you will need:
350g plain flour
1-2 teaspoon ground ginger
1 teaspoon bicarbonate of soda
100g butter or margarine
175g soft light brown sugar
1 egg
4 tablespoons golden syrup
Icing to decorate

Step 1
Grease your baking tray.
Step 2
In a large mixing bowl, add flour, ginger and the bicarbonate of soda then rub in the butter.
Step 3
Add sugar and stir in the syrup and egg to make a firm dough.
Step 4
Roll out to about 5mm thick and cut out your gingerbread men. If you don't have a gingerbread man cutter then use whatever you have – stars and hearts are just as tasty.
Step 5
Bake at 190 C /Gas 5 on greased baking trays (spaced out, as they will spread) for 10 to 15 mins until golden brown. Leave to firm up for a couple of minutes before placing on a wire rack to cook.
Step 6
Once cooled, decorate with icing.
Variations: Swap the ginger for cinnamon or a few drops of vanilla essence if you don't like ginger. Swap golden syrup for treacle, if preferred.