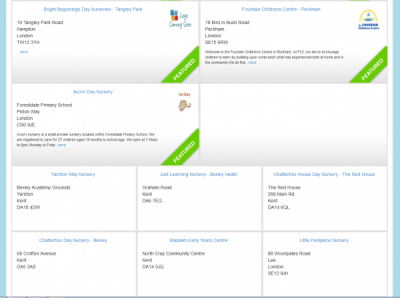 Basic Listing Sign Up – Look4Nurseries.co.uk
We are now offering all nurseries the ability to manage their own basic listing on Look4Nurseries.co.uk.
This new functionality will enable nursery owners/ managers to control and update what information is displayed to parents when searching for childcare.
With more and more parents turning to the internet for their childcare needs, we recognise the importance of correct and up to date data.
Whilst the basic listing does not offer the visual insight and core information that most parents are looking for, it does act as a stepping stone to a Personalised Page for nurseries who are looking to attract more parents and generate consistent enquiries.
You can compare all of the feature of and basic listing and a Personalised Page on our Features Page
You can sign up for a Basic Listing Here.
Frequently Asked Questions
Which plan is right for me?
A Basic Listing is just as it sounds, it provides parents with your address and basic facility details.
A Personalised Page attracts parents to your setting. We provide parents who are actively searching for childcare with information about your setting, giving them a visual insight into your facilities and activities. Enquires are delivered directly to you, giving you the best chance of conversion.
What kind of results can I expect from a Personalised Page?
Every nursery is different and no area is alike, but one thing for sure, once you sign up you won't leave us. Many of our nurseries are receiving in excess of 100 enquiries a year and with a renewal rate of 91 % were sure you will be happy with your investment.
How easy is a Personalised Page to set up?
Couldn't be easier… we do all the hard work for you. All we require is the basic info you would normally give a parent on a "show around" and photographs.
Can I see what response I have had?
Our Nursery Management Site will allow you to track everything on the Personalised Page, all stats are constantly updated to make sure that you always know what's going on.
How often can I update my info?
You can make unlimited amendments to your Personalised Page throughout the year at no extra cost.
How do I get a Personalised Page?
Simple, Just enter a few details into the sign up form and we will get you set up right away.