Cuts to bereavement benefits that supports single parents adjusting to single parent life.
Cuts to bereavement benefit that supports single parents adjusting to single parent life after losing their partner will see thousands left with financial worries at a time when they need support the most.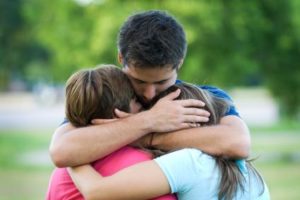 As of the 6th April the announced cuts will see parents receiving payments for 18 months.
Previously the payment lasted a maximum of 20 years.
The payment is based on the deceased spouse's national insuance contribution with the maximum amount that can be claimed at £112.55 a week.
"The benefit will not be extended to couples who are cohabiting and unmarried". 
Richard Harrington, Conservative minister caused anger when he defended the reform by claiming the old system risked stopping people from "readjusting" to life as a single parent.
  – Richard Harrington
The issue has been raised in parliament by Labour's Stella Creasy who told colleagues about a constituent called Ros, whose husband died in 2014 and who had given up work earlier to support him during his illness. She said the mother of two had found the allowance to be a lifeline, but would have lost out on more than £100,000 during the lifetime of her children as a result of the changes. Another case involved a woman in a loving relationship who was unmarried and received no payments as a result.
Harrington said that a societal shift in which women were more likely to work meant it was right to reduce the time over which payments were made. He justified not covering unmarried couples by saying it might be too upsetting for them to provide evidence that they lived together while grieving.
Labour's Stella Creasy accused the minister of using "justifications that sound like something from the dark ages" in a parliamentary debate over reforms to the widowed parent's allowance, which is being renamed the bereavement support payment.
  – Stella Creasy
Creasy asked Harrington how the government could justify not paying the money for unmarried couples. Harrington claimed such a change would be expensive and complex to administer, adding: "Having to prove cohabitation could be a lengthy, complex process, which could cause distress at a time of bereavement."
Pushed by the Labour MP on what had driven the decision to time-limit the benefit, he said 18 months was seen as the "most critical short-term time".
"I hope the honourable lady will agree that the old system could be unfair and complex, and could act as a trap preventing people from readjusting," he added, claiming that the allowances were first brought into place in 1925.
"The way that people thought in those days was that most women were wholly dependent on their husband's income. If a woman was widowed, her sole source of income would disappear completely, so it was considered necessary to provide a replacement income for her to survive."
He said women were now active in the workforce, with many households benefiting from dual incomes. "That is why we are modernising bereavement support into a simple, uniform and easy-to-understand benefit that better reflects society."
"The sad truth is that it is the next generation of bereaved children who will bear the brunt of these cuts."
The leaders of two charities that support parents and children after the death of a loved one who are 1 of many who have written to the chancellor to ask him to think again about the reform, which they say will leave 75% of people worse off in cash terms.
Elms, chair of WAY Widowed and Young, and Penny, co-ordinator of the Childhood Bereavement Network, asked why the changes were saving the government £100m per year, despite ministers insisting that they were not intended as a cost saving measure.
– Phillip Hammond
They called on Phillip Hammond to pause the implementation and reconsider supporting unmarried couples.
"This would reassure the 3,200 widowed parents and their supporters who have written to their MP on this issue over the last three weeks, and benefit many thousand more parents who will sadly lose their husband, wife or civil partner next year and do not yet realise the relevance of these payments to their family,".
A spokesperson for the Department for Work and Pensions said: "The old system introduced more than 90 years ago, was based on the outdated assumption that a widow relied on their spouse for income, and would never work themselves. This doesn't reflect people's lives today.
"The new bereavement support payment focuses support on the 18-month period after the death of a spouse or civil partner, when it is needed the most."
The spokesperson argued that the new payments would be easier to understand, wouldn't be taxed and wouldn't affect the amount received from other benefit payments, protecting those on low incomes.
"While couples do need to be married or in a civil partnership to be eligible for bereavement payments, support for funeral expenses and other means tested benefits are available for cohabiting couples."
https://www.look4nurseries.co.uk/blog/charity-tuesday/charitytuesday-the-lullaby-trust