#Charity Tuesday – WellChild
Our chosen charity for #CharityTuesday is WellChild.  With Prince Harry as their patron and backed by a number of celebrity ambassadors such as Duncan Bannatyne, Karen Brady CBE, Mark foster and many more this is a charity definitely worth noticing.
Originally called 'kidney', the charity was set up by an individual in 1977 to fund research into kidney disease after a friends daughter dies of kidney failure.  With no research into children's health issues at the time, the treatment of specific kidney diseases had only just begun.  With investment from WellChild/Kidney there have been major clinical advances such as haemodialysis, transplantation and management of chronic renal failure.
With its original goal being research into kidney disease, WellChild have since gone on to offer practical support to sick children and their families across the UK transforming their quality of life and empowering parents.  This has led to the creation of new initiative such as the WellChild Children's Nurses posts and Helping Hands projects.
What They Do
WellChild look to have a positive impact on families in 3 main areas.
Making Life at Home Possible
Getting Children Home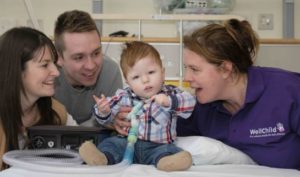 Caring for a child or young person with exceptional health needs can seem to many like an impossible task.  With the help of WellChild Nurses, children and families are receiving the practical and emotional support to get them home as soon as possible and minimise the need for readmission.
In 2015/16 the number of WellChild nurses grew to 32 supporting 806 children, young people and families (that's 18% more than the previous year!).  New posts have now been funded in Leeds, London and the first in Northern Ireland! Thanks to GSK, PLatts and ITV Text Santa.
Making homes safer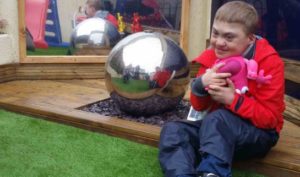 Ensuring homes and gardens are accessible for a child with exceptional health needs is often the last thing on a parent's mind.  With the help of 570 company volunteers across 27 difference companies, they have been able to transform the quality of life of over 35 families thanks to the WellChild Helping Hands Project.
With special thanks given to Tiger Turf, Speedy and Travis Perkins for their ongoing support of the WellChild Helping Hands programme which has completes its 250th project during the year!
Family support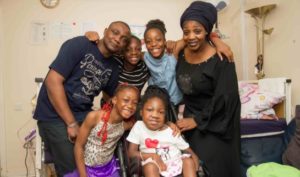 Knowing you are not alone and there are others who 'get it' is a huge comfort to families.  This year over 416 families were connected through the WellChild Family Tree Network allowing families to benefit from mutual support, advice and friendship.
33 children and young people (83% of the total estimated number of people) with the rare genetic condition 'Wolfram Syndrome' were given practical help guidance and emotional support through the Wolfram Syndrome Family Co-ordinator.
Building the Confidence to Care
Parent Training
In collaboration with AlderHey Children's Hospital and Edge Hill University a 'Better at Home' Suite was launched – The  UK's first Parent and Carer facility.  The suite provides a safe place for families to learn how to care for their child at home from feeding via a tube and managing their ventilation.
Tools and resources
We continue to fund easily accessible information through the creation of the 'Medicines for Children' website in partnership with Royal College of Paediatrics and Child Health (RCPCH) and the Neonatal and Paediatric Pharmacists Group (NPPG) providing parents with information on over 100 medicines and their administration.
Giving Families a Voice
Raising Awareness
Too often the challenges of caring for an ill child are unrecognised and misunderstood.  Through the #Notanurse_but Campaign, parents were supported in creating powerful video diaries to share their personal stories and highlight gaps in support and delivering high level medical care for their children at home.
The videos have gone on to be viewed 40,000 times and have been used to educate community and health professionals on what caring for a child with exceptional health needs is like behind closed doors.
Our Impact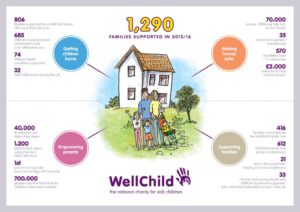 In 2015/2016 we helped over 1,290 children, young people and families across the UK. Here are some of our achievements.
How you can get involved
There are a number of ways to get involved in raising money for WellChild, if you fancy a challenge with other like-minded professional scaling the mountainous regions of Everest or are your more of an artistic individual and want to showcase your talents whilst donating to a good cause there's something for everyone.
Get involved in the following ways:
Campaign –raise awareness and support issues raised by the WellChild Manifesto
Challenge – from Bike rides, marathons and trek challenges there something for everyone
Companies – for corporate companies select WellChild as your registered charity
Fundraise – for schools, universities, colleges and clubs
Volunteer – Help support WellChild events with your time
Ways to give – donate, buy the WellChild single, play the TaxiBall lottery and so much more.
Editor: Hajra Ravat